The Fucksia Woods is a necessary path to follow the history.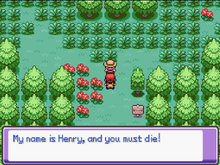 Once you enter, a trainer is waiting you in the middle of the way
Trainer

Team
Henry
Weedle lv 5

Caterpie lv 5
If you go to the left side and cross the grass, you will find a trainer
| Trainer | Team |
| --- | --- |
| Jerry | Weedle lv 7 |
After you beat him, come back and then go to the right side, and up, the you will find a sign, and a thing.. (I think is a dead body), go to the East, to the shack of Mr. Cut. You will find a trainer very close to the sign looking up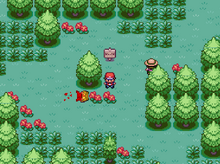 Trainer

Team
Don
Metapod lv 6

Kakuna lv 6
Then, keep along the route, if you go down you will find a trainer and a berry if you keep going down.
| Trainer | Team |
| --- | --- |
| Alice | Butterfree lv 7 |
After defeat Alice, you need go top side
| Trainer | Team |
| --- | --- |
| Ali | x2 Catterpie lv 6 |
After you arrive and talk with Mr. Cut, he will give you HM01 - Cut. He will tell you to go to Anustar City and talk with Kurt to get the other HM that you need for go to the Cook Tunnel.
Then go back to where the sign is and to the left side. After pass the grass you will find a trainer
Trainer

Team
Doug
Metapod lv 5

Pikachu lv 6

Metapod lv 5
Then, go up, pass the grass, and you will find berry's and a trainer after a little bit more of grass
Trainer

Team
Rob
Butterfree lv 6

Pikachu lv 6 
After beat him, keep walking to left side and you will find a pokeball with a Super Potion ( *** )
Then come back to where you fighted with Doug and then go to the left side, you will find a sign and another trainer
| Trainer | Team |
| --- | --- |
| Ed | Butterfree lv 7 |
Keep going to the left side and you will arrive to Route 8
Grass
Weedle

Kakuna

Pidgey

Beedrill

Budew
Items
x1 Potion (Located going to the left side and all up)
x1 Antidote (Located in the way to Mr. Cut, hidden in the grass behind a tree)
x1 Antidote (besides Mr. Cut shack)
x1 Super Potion ( *** )