Route 3 is the third route of Runko.
You came walking from the route 2, and now you are here.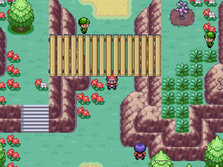 If you go up the stairs and cross the bridge, a trainer will be there
Trainer

Team
Danny
Rattata lv 2

Pikachu lv 3 
Eventually, you will have to pass below the bridge, then you will find a trailer
| Trainer | Team |
| --- | --- |
| William | x2 Bellsprout lv 3  |
Continue along the route and you will find a neutral NPC, he won't going to fight you. But in the middle of the way, there is a trainer.
| Trainer | Team |
| --- | --- |
| Jill | Rattata lv 4 |
Pokemon
Grass
Pidgey

Ledian

Rattata
Items
x1 Antidote (Located to the East, after pass the bridge and walk on some grass)